I have the sweetest, most generous, and amazing friends. I don't know how I got so fortunate, but I'm thankful for each and every one of them.
I am also especially thankful for their support of my writing…which brings us to the purpose of this post.
My friends have come together to support the release of my first book by offering a big giveaway.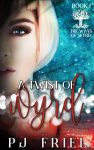 10 ebook copies of A Twist of Wyrd!!
Yes, you read that right, TEN!!
Already have the ebook? No problem, enter to win one of 2 gorgeous signed paperback copies!!
All you have to do is go to this GIVEAWAY thread posted by Misty and do what she tells you–like my Facebook author page and comment on the thread. So easy!