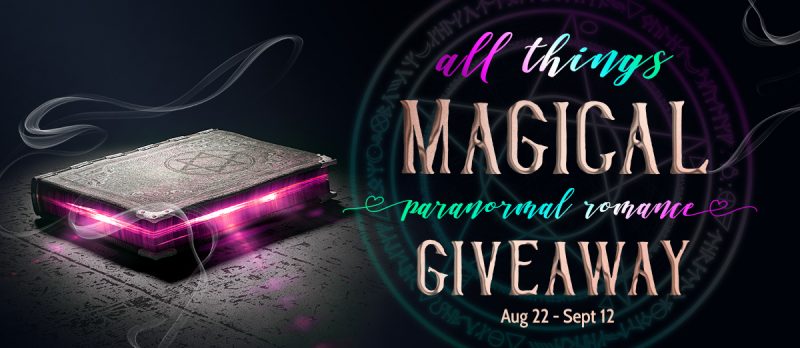 ALL THINGS MAGICAL
Paranormal Romance & Fantasy Giveaway
August 22 – September 12
Enter for Your Chance to Win!
https://bookwrapt.com/things-magical-giveaway/
How would you like to win a prize pack of paranormal romance or fantasy ebooks by your favorite authors? Enter and you could take home one of four packs where YOU tell us which books to buy for you. We also have a Kindle Fire 7 and Amazon gift cards up for grabs!
(Sponsored by the 25 authors listed below)
Allyson Lindt • Amanda Uhl • Angela Roquet • Angelique Armae • Arizona Tape • Bella Roccaforte • Cailin Briste • Candace Sams • E.B. Black • Elizabeth Rose • Karen Michelle Nutt • Katherine Gilbert • Kerry Blaisdell • Kristy Tate • L.E. Harrison • Laura Greenwood • M.C. Cerny • Mary Morgan • Maureen Bonatch • Mia McKimmy • Michele Barrow-Belisle • PJ Friel • Sorchia DuBois • Tena Stetler • Aileen Harkwood
Plus, don't forget to shop our All Things Magical Book Fair for best-selling and highly-reviewed ebooks on sale just for this event, and a bonus giveaway for a leather-bound spell journal!