RELEASING IN MARCH 2018!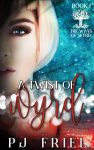 A TWIST OF WYRD – BOOK 1
They say a person's wyrd – their destiny – is carved into the branches of Yggdrasil long before they are born.
Three hundred years after Odin's gates to Earth malfunctioned, Outlanders left behind have integrated into society so thoroughly that few humans are even aware of their existence.
Straddling the divide is Bryn Ullman, a PI with a unique skill that's in demand by Akron PD and a phobia that even her martial arts training can't defeat. Her shadowy heritage means that she is always looking over her shoulder, and has no patience, and no place in her life, for Trygg Mackenzie and the confusing things he makes her feel…and want.
Trygg, head of security for the Devourer mob, is a berserker in hiding. If the Allfather finds him, eternal servitude will be the least of his worries. But for Bryn, he's willing to take the risk if it keeps her safe and gains him redemption for his past.
A murder investigation throws them together, but with mob secrets and unknown factions at work, will giving in to their passion be their undoing or their salvation?
On the path of fate and destiny, it'll take A Twist of Wyrd to save them both.